How the NDIS Supports Art Therapy
by SEO TCC | August 1, 2022
---
Have you ever had the feeling that a colour or a picture better describes how you're feeling than words can? When words fail, art and creative outlets can help us truly thrive!
For thousands of years across various cultures, people have used art for communication, self-expression and healing. By utilising physical artistic materials like paint, clay, drawing tools and paper, we can externalise our thoughts and emotions to tell our stories while unlocking parts of ourselves that words can't articulate.
By focusing on the process rather than the final product or 'artwork', art therapy is used to stimulate somatic reintegration to promote healing, mental wellbeing and a state of mindfulness.
What is NDIS Art Therapy?
Art therapy is a therapeutic technique that utilises creative expression in all its forms with the aim to improve a person's physical, mental and emotional wellbeing. Through the creation process and with the help of mental health professionals, you can experience an emotional release where you can reflect on how the creative process fosters self-awareness, promotes insight and supports personal change.
Art therapy is often used to address the symptoms of:
Stress
Addiction
Depression
Attention Disorders
Grief and loss
Dementia
Eating disorders
PTSD
Trauma
Hearing voices
Unusual beliefs (delusions)
Paranoia
Gender dysphoria
Relationship issues
Self-harm and suicidal thoughts
Art therapy has been a recognised and regulated practice across the world since the 1940s. Today it continues to help people of all demographics as it aims to help participants to manage needs, provoke clarity, process feelings, reduce stress and increase self-esteem. It's always performed in a safe and supportive space, free of judgement and facilitated by experienced therapists. Art therapists use a range of methods to meet the individual needs and goals such as, visual art, sculpture and writing.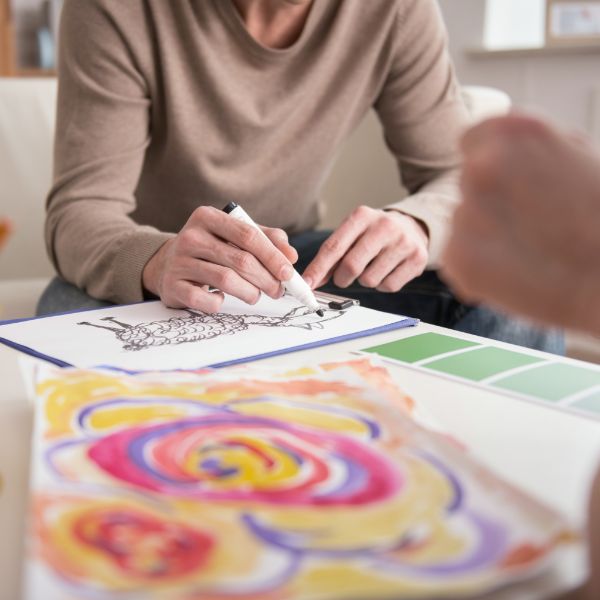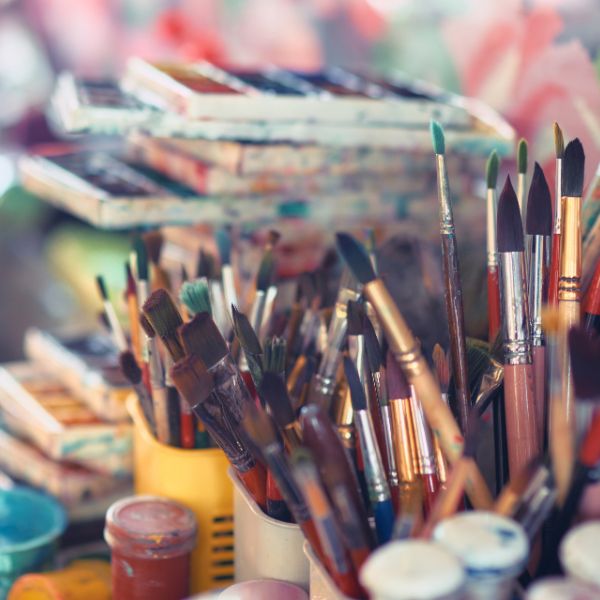 Art Therapy & Disabilities
According to the Australian Institute of Health and Welfare, 32% of adults with disability experience a high or very high level of psychological distress compared to the 8% of people without a disability experiencing the same levels of distress.
Art making is seen as an opportunity to be imaginative, genuine, and spontaneous in self-expression, an experience that can lead to emotional healing and personal fulfilment.
Creative art therapy is proven to help people with physical disabilities as it helps them to refine their fine motor skills and assist with special awareness. It also addresses the associated psychological and emotional stress experienced by people with physical disabilities by building lasting and healthy coping mechanisms and improving self-esteem.
For those with psychological and intellectual disabilities, expressive art therapy has proven to improve behavioural difficulties and shown to improve their ability to complete developmental tasks and maintain relationships. Expressive art therapy also helps the therapists themselves to understand the participant's emotions, relationships and interpretation of experiences.
Art Therapy & The NDIS
The National Disability Insurance Scheme (NDIS) supports people with long-term and significant mental health difficulties with lifelong funding, allowing you to work towards your recovery objectives and live with hope and optimism.
Funding for NDIS art therapy can be accessed depending on your recovery goals. Under the NDIS, art therapy is provided as an allied health service and can be incorporated in your NDIS budget with the help of our team of experienced Support Coordinators and set your goals through our NDIS Therapeutic Supports to help you to:
Bypass the verbal requirements of communication and self-expression
Reduce stress
Decrease feelings of helplessness and hopelessness
Improve fine motor function
Improve cognitive function and quality of life
Encouraging personal growth
Improve social skills and interpersonal skills
Develop healthy coping strategies
Why Choose Stride?
Our Art Therapists are experienced mental health clinicians and are registered with ANZACTA, the peak professional association for Creative Arts Therapies in Australia, New Zealand and Asia/Pacific region.
We offer services to help individuals at all stages of their mental health journey, from early intervention services for children, young people, and adults who are at risk of developing mental health disorders to services for those who have continuing and complex needs. We work with people wherever they are in their journey to help them achieve the life they want.
We are a registered provider of NDIS support, this means that as the client, you can put your trust and confidence in Stride to support you in your journey. We will guide you in finding the right strategy to improve your day-to-day life, which includes techniques such as expressive art therapy.
Click here to contact the team at Stride Mental Health today to discuss your NDIS plan.
---