All about our Supported Independent Living (SIL) mental health accommodation
by Kat Rowe | September 21, 2022
---
It's a home away from home. It's a place where you'll never feel alone. It's where you can regain your independence. It's our Supported Independent Living (SIL) service.
SILs are a residential and mental health housing service where adults with a diagnosed mental health condition can turn to a safe and supportive place to live.
If you, or a loved one, need support finding a way to live the life you want – and deserve, our mental health accommodation options could be the circuit-breaker you've been looking for. We will go through everything you need to know about SILs and how it can help fulfil your potential.
What's a Supported Independent Living (SIL) service?
It's a National Disability Insurance Scheme (NDIS) funded support that provides housing for around 2-7 people per household. It's aimed at people who live with a diagnosed mental health condition who want to have independence and control over their daily lives.
Our highly trained support workers provide SIL residents with 24/7 assistance, ensuring access to a caring and passionate mental health professional whenever needed. They are there to support you to perform day-to-day tasks, helping you start the day on the right foot and end it feeling accomplished and purposeful. An example of supports include: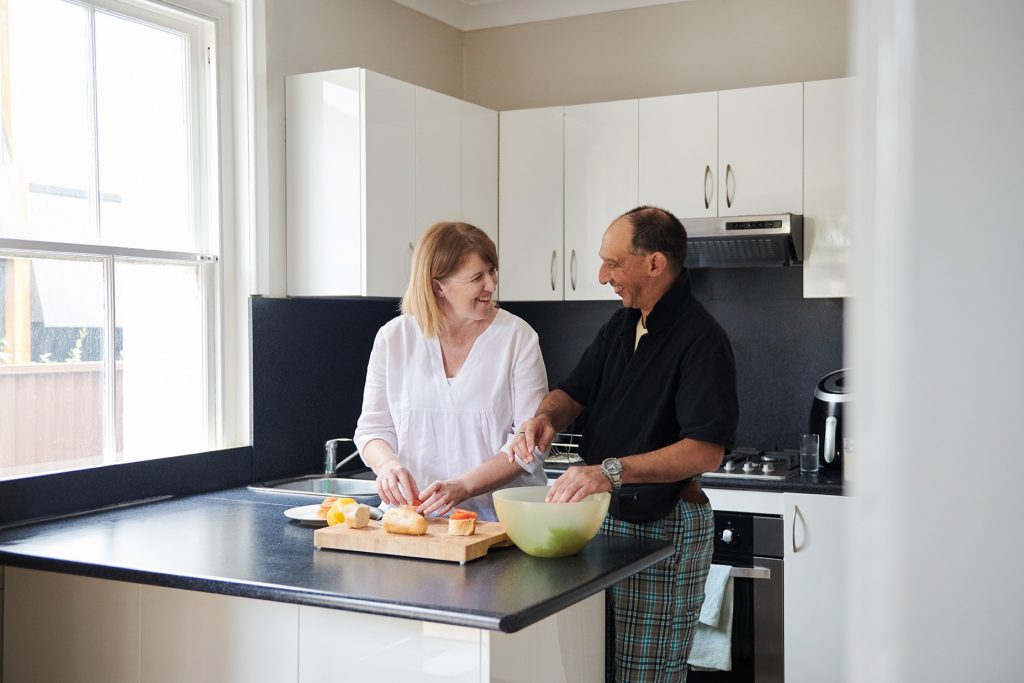 Practical day-to-day living like:
Cooking, cleaning and maintaining your home
Personal care
Budgeting
Taking medication
Attending appointments
Shopping
Going out in the community and participating in activities (such as sports, support groups, etc.)
Developing and maintaining routines
Help building social and emotional resilience by:
Security and safety support
Social skills development and behavioural support
Watch this video to see what it's like to live in a mental health accommodation and how our support workers help the residents shape a brighter future.
How can I access a Supported Independent Living service?
If you feel that mental health accommodation and the assistance of our support workers is the best fit for your current situation, your first step is to set up a meeting with your Support Coordinator to include a housing goal in your NDIS Plan. Once it's established that you're eligible for SIL as part of your NDIS Plan, we can help you find an accommodation vacancy near you (scroll down to the next section for more information on vacancies).
You can also be referred by your doctor, local allied health professional or hospital. It's important to note that the SILs service funding will not include groceries, rent, utilities, travel expenses (including vehicle costs) and other daily expenses.
For more information and helpful resources on how to access SIL services check out our blog, 'Supported Independent Living (SIL): What Can it Offer You?'.
You can also gain insight into the process through SIL resident Sal's story:
Where can I find a SIL accommodation vacancy?
We have mental health accommodation services located across the country's east-coast states, including in regional areas like Cleveland, Griffin and Taigum in Queensland, and Orange, Bardwell Park, Casula and Marayong in New South Wales.
You can check out our full list of current vacancies here.
If you can't find one near you, send us an enquiry at SIL@Stride.com.au or submit an enquiry form here.
For more information about NDIS Support and our Specialist Support Coordination services, email ndis@stride.com.au.
Why choose Stride?
We have a long history of providing residential services. In fact, mental health accommodation was one of the first services our Founder, Emily Paterson established in 1907 under the name Aftercare, making us the longest service provider in this area.
We now work with over 17,000 consumers who are supported by over 800 staff and 50 services, including over 30 SIL services. We want to provide support to people who need it the most, including the families and support networks of those living with ongoing and complex mental health needs.
Wherever you are on your mental health journey, you can rely on us to stride alongside you to rewrite your future.
SIL frequently asked questions
Can I inspect the property before applying for it?
Yes, we can arrange for you to view the property that you are being considered for to ensure that it is suitable for you and will meet your needs.
When will I meet the other house members?
Depending on the other residents' daily activities, they may be around when you view the property, alternatively, we can organise a meet and greet at another time that suits everyone.
How long can I stay?
Our SIL properties become your home, you can stay as long as it suits you and your support needs, we have had some residents that have resided with us for over 10 years and continue to be supported long term.
What can I expect on my first day?
On your first day, our team of dedicated support workers will support you to settle into your new home, we will get to know you and your routines and work together to best support you over the coming days. We are dedicated to making the transition to your new home an easy one, if there is something particular you would like to happen on your first day let us know.
Can I decorate my room?
We would encourage you to personalise your room to ensure that you are comfortable and feel at home in your personal space. All our bedrooms are already painted and furnished however if there is something else you would like to add to your room, just ask we will be more than happy to accommodate.
Am I free to come and go as I please?
Yes, if you do not require support in the community you are free to go out and enjoy your day. Your support team will work with you to ensure that you know how to reach us should you need anything while you are out.
How much interaction will I have with the support team?
Your support team is available to you 24/7 should you require any support, it is up to you how much interaction you have. We will develop a support plan with you so that we can best understand your expectations and your needs. We will continually review these so that we are catering to your changing needs.
Is the accommodation furnished?
Our SIL properties are all fully furnished so you can move right in with your personal belongings.
---