What is Parramatta Head to Health?
by Kat Rowe | October 23, 2023
---
Ever felt overwhelmed and not sure where you can turn to for help? Head to Health is a great first step.
Parramatta Head to Health centres exist across Australia, as a safe, free and inclusive environment for adults 18+ who are seeking emotional wellbeing and mental health support.
You don't need a referral, an appointment or even a Medicare card – just walk in.
Parramatta Head to Health is a place for anyone who is experiencing emotional distress, or those that need advice on how they could support a loved one.
Recently launched: Parramatta Head to Health
At Stride, we are proud to announce that we have just opened our second Head to Health location, in the heart of Parramatta Sydney on Darug land of the Burramattagal people.
Supported by funding from WSPHN (Western Sydney Primary Health Network) through the Australian Government's Primary Health Network program, we aim to address mental health concerns in the area. Parramatta Head to Health will complement – rather than replace or duplicate – services already provided in the community and will connect people with other local services for ongoing care.
What can I expect when visiting a Head to Health centre?
When you walk through the doors to one of our Head to Health centres in Parramatta (NSW) or Launceston (TAS), you'll be greeted by a friendly member of our team, who you will have a confidential chat with to find out what's going on in your world.
There is no pressure to fill out paperwork, make an appointment or commit to any plans, we take it at the pace that is right for you.
Our peer support workers (people with lived experience of mental health), family and carer support workers, care coordinators and allied health professionals create a safe and welcoming place where you can simply feel heard.
At Parramatta Head to Health, you don't need to book an appointment to access our range of supports, including:
Support and advice in navigating and connecting you with ongoing local mental health services
Immediate, short- and medium-term mental health and wellbeing support
Access to translating and interpreting services
Engagement with social and community groups
How to access Parramatta Head to Health
There is no cost for attending Parramatta Head to Health, nor do you need to have a Medicare card, Health Care Card or GP referral to access its services.
Simply drop in or call us to find out how we can help you.
Operating Hours
Monday to Friday 9am to 9pm
Saturday, Sunday and public holidays 3pm to 7pm
Address
Ground Floor, Suite 1, 150 George Street Parramatta NSW 2150
Contact:
Prioritise your mental health with Parramatta Head to Health
There is no one-size-fits-all when it comes to mental health support. Let Parramatta Head to Health help you find the services that are right for you at no cost and no prior planning on your behalf.
If you or someone you care for needs immediate emergency assistance, call 000. Or for 24-hour mental health support call Lifeline 13 11 14 or the NSW Mental Health Line on 1800 011 511.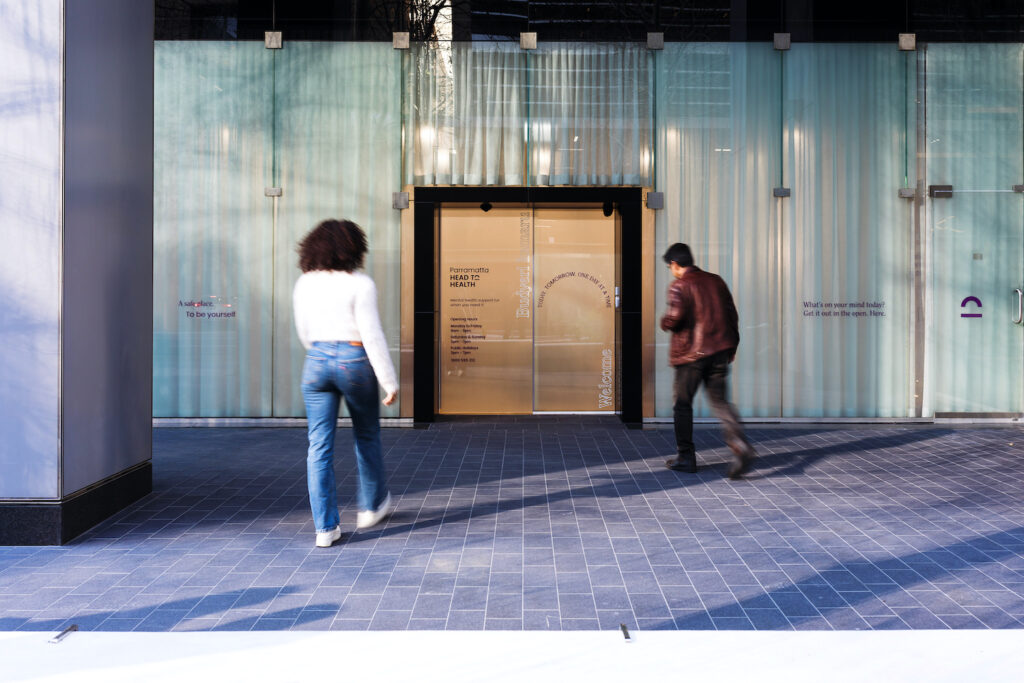 ---