by SEO TCC | July 25, 2022
---
Reconnecting Young People to Land, Culture & Community
For many First Nations people, a connection to one's culture and land fosters a powerful sense of community and belonging.
Gerry Surha, an Elder respected by the Yirrganydji people, the traditional owners of the Cairns area in Northern Queensland, noticed this sense of belonging was lacking in the young people in the local Cairns community. He has partnered with our Take 2 Program to incorporate cultural learnings into our early intervention initiatives to support their long-term mental health through reconnection to Country.
Working within primary and high schools the Take 2 Cultural Program aims to mentor vulnerable young people as they build their sense of identity, purpose and hope for a meaningful future into their lives and learn about their history and culture.
What is the Take 2 Cultural Program?
The Take 2 Cultural Program is part of the Cairns Take 2 Program that works alongside families with kids and teens who may be at risk of developing mental health issues in the future. We meet the families and work to set goals, provide practical support, mentoring and referral to other mental health professionals to get the young person the support they need if required.
The Cultural Program is facilitated by Gerry Surha and provides one-on-one and group sessions during school hours for young people aged from 6-17 years who are struggling with school, or life in general. The program encourages consistent routines and school attendance is necessary for the students to participate in the program.
Gerry Surha works alongside Stride Take 2 staff to intertwine cultural learnings into art and music activities, favouring hands-on, interactive methods to teach the students about the traditional stories and practices of the Yirrganydji people and the people of other lands across Australia.
Their sense of belonging and cultural identity has faded as the impact of intergenerational trauma, coupled with the stigma many First Nations young people carry as the juvenile crime rates rise in the area, weighs heavily on the young people of Cairns. Gerry Surha aims to break down those barriers and stop the cycle of poverty and crime to give these young people a mentor who can show them that there's a rich, fulfilling life awaiting them.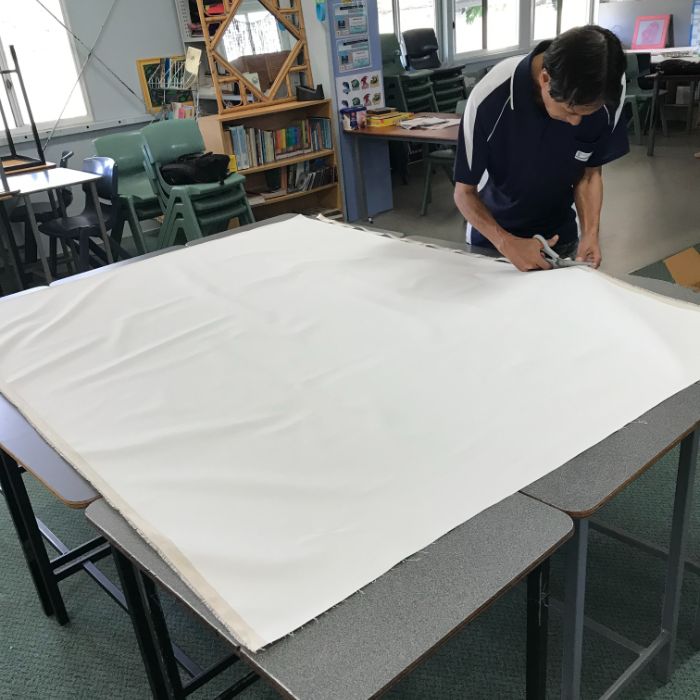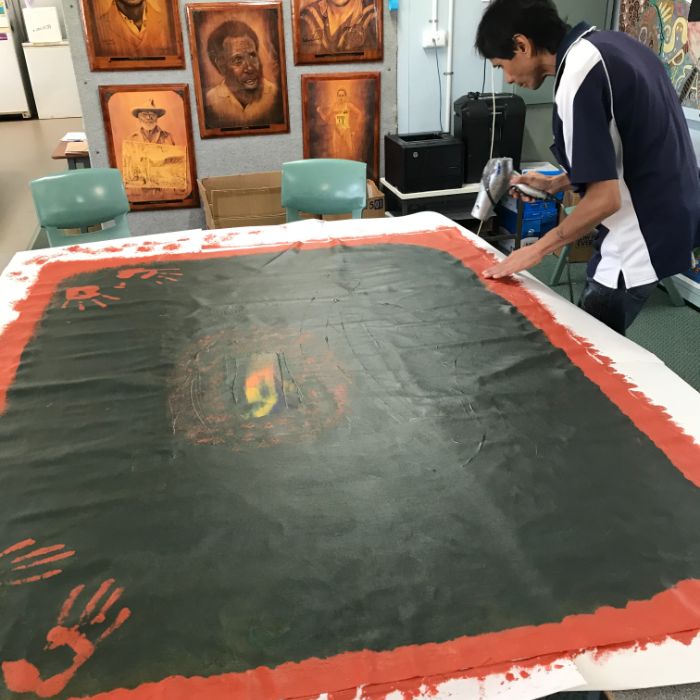 Jariah's Story
Jariah, 15, was referred to the Take 2 Program by his Guidance Counsellor as he displayed signs of anxiety and low self-esteem, he lacked energy and motivation, regularly skipped school and was frequently suspended due to anger outbursts.
Jariah started with one-on-one sessions and took to the Cultural Program with great enthusiasm. He attended every session and in turn this boosted his school attendance rate. He took a keen interest in learning about his Tribal Totems and what they represent, completed artworks that are now displayed at the school and began taking lessons with an indigenous music tutor.
The Take 2 Program also provided support for Jariah's family and referred them to a family counsellor to achieve a holistic approach to help him at home as well as at school. Jariah is now a participant in the group peer sessions, attends school five days a week, participates in school activities, engaging positively with peers and has formed a friendship group within school, something he struggled to maintain in the past.
How can you get Involved?
Young people can be referred to the Cairns Take 2 program through school referrals, doctor or counsellor referral, enquiries from parents/carers or self-referrals.
The Cultural Program is not exclusive to young First Nations people. It's open to anyone who is wanting to learn about the Yirrganydji people, their local culture and wanting to form a bond with the land and country to reignite their sense of belonging, something our young people are yearning for.
Who is Stride?
We provide individualised services to support people from all walks of life and through every stage of their mental health journey. From early intervention, designed to support children, young people and adults at-risk of developing mental health conditions, to services for people with persistent and complex needs.
Stride presently has over 800 employees working across our corporate, residential, community and integrated services with 4% identifying as First Nations peoples. We lean on our Reconciliation Action Plan to guide our ongoing strategies and services as we work together for better mental health and
wellbeing outcomes today and tomorrow. We achieve this through our core pillars of early intervention, wellbeing support, collaboration and continual learning.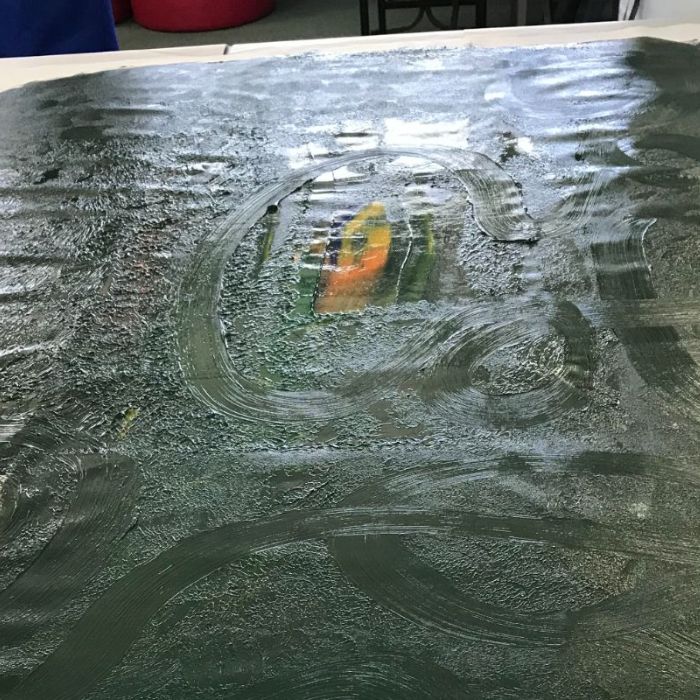 We acknowledge the Traditional Custodians of the land on which we live and work, and of the many different nations across the wider regions from which we all come.
We pay our respects to the Elders, past, present and emerging as the holders of the memories, the traditions, the culture and the spiritual wellbeing of the Aboriginal and Torres Strait Islander peoples across the nation.
We acknowledge any Sorry Business that may be affecting the communities as a whole.
In the spirit of reconciliation, partnership and mutual respect, we will continue to work together with Aboriginal and Torres Strait Islander peoples to shape our community mental health services to respond to the needs and aspirations of the communities to which we serve.
---