Stride's Safe Haven and Safe Spaces
by Kat Rowe | December 17, 2021
---
What is a Safe Haven or Safe Space?
A Stride Safe Haven or Safe Space is a welcoming, quiet, and comfortable place in the community. Safe Havens provide the space for people experiencing suicidal thoughts and feelings or emotional distress to access support when they need it, in a calm and caring environment. They are a collaborative and innovative concept that works for the local community they are situated in. The space and support available have been designed in partnership with people who have been through tough times themselves and understand what does and doesn't work.
The staff at Safe Haven are Peer Support Workers, (people with a lived experience of mental health issues) and non-clinical Mental Health Support Workers. Safe Havens promote the wellbeing of people through assistance and support to manage their experience of distress, both current and in the future, and reduce the need for people to access emergency departments when they are feeling unsafe. Guests tell us that having another option for keeping safe is really important; "It is so great to have a place to come that is an alternative to ED while you can just chill and get help. It is better than ED, the wait at ED with no one to talk to is hard. In Safe Space there was no wait, [I was] given time to sit and sort my brain out with someone to talk to if needed."
The key features
One of the key features of Stride's Safe Havens and Safe Spaces is accessibility to the community. There is no referral or diagnosis required to visit, and any person can use the space. Guests can call to make an appointment or just walk right in and receive support. At Stride, all our services are committed to inclusion across race, gender, age, religion, identity, and sexuality, and we welcome every visitor on their own terms. We recognise that suicidal crisis among Aboriginal and Torres Strait Islander people and CALD (Culturally and Linguistically Diverse) people can be exacerbated by discrimination, trauma, and racism. Our team are trained in building safety in a culturally and spiritually aware way. We also understand that parents, guardians, and carers need support too, and we are set-up to assist people who visit with children or people they care for.
Safe Havens use a combination of evidence-based strategies, underpinned by Stride's foundational commitment to principles of individual recovery. This ensures we use the findings from research to help support people, whilst respecting and valuing all that is unique and singular about their experience. This leads to better results and improved recovery times. Our trained Peer Support Workers assist guests to use sensory tools and create take-home strategies that work for their life. The spaces are designed utilising a sensory modulation approach; this means they are designed with a focus on inviting and tactile experiences that help guests ground their senses.
The core components of a Stride Safe Haven/Space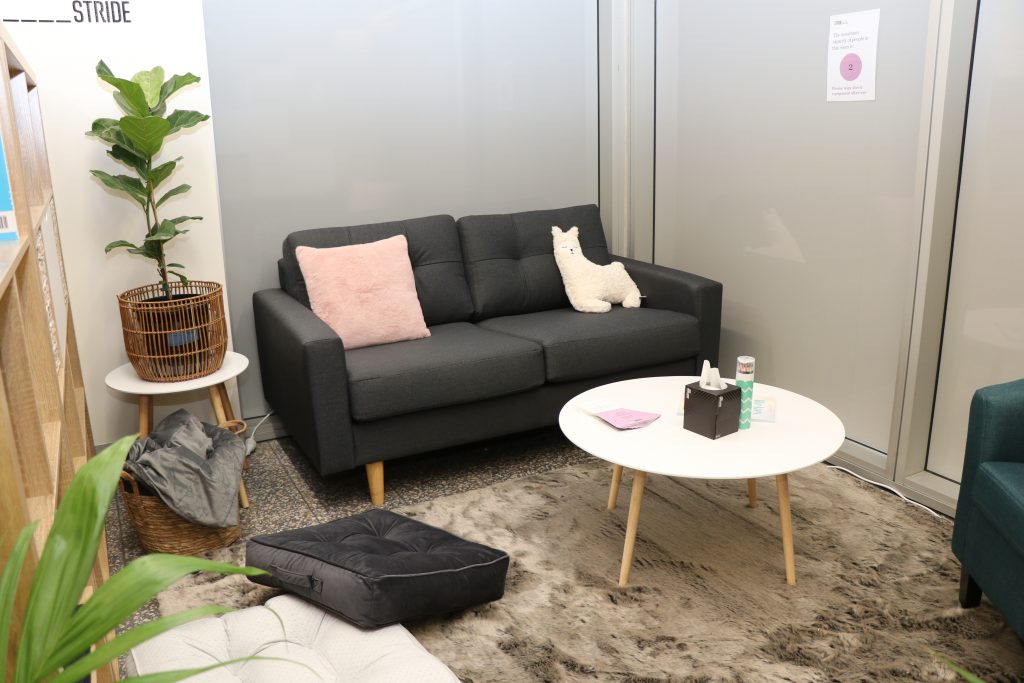 A tailored floorplan styled to meet diverse needs; this can include access to talking support, safety planning, a sensory room or area, sensory activities, and tools, and plenty of calming space to ease distress and create safety

Hours of operation that align to times of higher demand in emergency departments, including evenings and Saturdays
Specially trained Peer Support Workers and Mental Health Support Workers who collaborate one-on-one with guests to help them normalise and process their experiences without judgement or pressure, and explore creative ways to manage recovery at home

Some guests may also choose to develop a sensory plan, including advice for building their personalised sensory kit. Many sensory modulation tools are easily constructed from affordable items available at supermarkets or discount stores

Some guests may find they visit only once, but guests are welcome to visit Safe Haven as often as they need

Follow up support is provided to guests the following day via phone call. Peer support workers may facilitate referral or engagement with other health professionals and community services or invite guests to return to the Safe Haven.
A guest-led experience
The Stride Safe Haven/Space experience is guest-led. This means that each guest is supported to choose supports and follow up based on their own preferences and recovery needs. In 2020-21, 80% of Safe Space guests reported that their subjective distress levels were reduced by more than 10% after spending time in our space.
Many guests also tell us that sitting and chatting with a Peer Support Worker is one of the most valuable aspects of their experience. One guest told us: "It has been very different talking to someone who has been there rather than someone who has only read about what I am going through."
Where to Find Us
Stride's Safe Havens/Spaces are growing and evolving through an ongoing process of co-creation with local communities. We now have locations open in Blacktown and Wollongong in NSW, Belconnen in the ACT and Caboolture in QLD.
Safe Haven Wollongong is open 2 pm to 10 pm from Wednesday to Saturday at
55 Urunga Parade, Wollongong NSW
Safe Space Blacktown is open 3 pm to 9 pm from Wednesday to Saturday at
24 Panorama Parade, Blacktown NSW
Safe Haven Belconnen is open 3 pm to 10 pm from Tuesday to Saturday at
56 Lathlain Place, Belconnen ACT
Safe Space Caboolture is open 5 pm to 9 pm from Monday to Friday and 10 am to 2 pm Weekends and Public Holidays at
24 George Street, Caboolture QLD

If you or someone you care about needs support, you can visit us on the above days. Alternatively, if you or someone you know need support outside of these hours or crisis support, call Lifeline on tel:+61-13-11-14.
---